Adora
Anara Adornment RN RA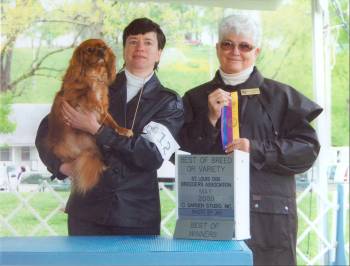 I can't get a decent win photo of Dora to save my life! What IS it with show photos? (And it's a yucky picture of me, but hopefully you will look at the dog, not at me!).
This was Dora on a rainy, windy, cold, nasty day in the spring of 2009, where I came up with my very own special techniques to get her to gait (running backwards and calling her) because she decided for the first time in her life that she didn't want to touch wet grass. But it worked; the judge loved her -- that's her first Best of Breed ribbon up there in that photo. She wouldn't stand for the picture -- to be fair, nobody wanted to stand with the high winds blowing cold mist into their faces. So I just picked her up.
Dora is a wonderful, super-sweet girl who is JUST like her mother -- except where Kerah was willing to show, Dora LOVES to show -- except on cold, rainy days, I suppose! She is just wonderful in the Rally ring, she's a real delight to show in any venue. She got her Novice title with scores of 99, 100, and 89 -- and that low score reflects a ten-point error on my part, not on her part. Her scores for her Advanced title were 95, 98, and 97. I don't remember what I did wrong to drop her score to 95, but I'm sure it was me and not her. She has also finished her Rally Excellent title, so now I have to decide whether to go for her RAE or her regular-obedience CD. She's super-fast and usually if there's a tie on scores, she wins the tie on time. And it's so charming when she whirls around in circles and dances on her hind legs while waiting to go in the ring!
Dora's hips are rated GOOD and her patellas are sound. Her eyes and heart were cleared in January 2010 and her mother is still clear, too. I was so looking forward to a litter of wonderful puppies from Adora after breeding her to Sanickro Enchanter, a fantastic stud dog and Dara's father . . . but unfortunately Dora's one premature little son lived only three weeks before dying, despite round-the-clock care, of aspiration pneumonia. I have recovered from this experience enough to try again, and I am now planning on breeding her to a great ruby male, Grand Champion Graham MacInnes, in late 2011. Puppies, presuming I have better luck this time, should arrive around Christmastime.
Closeburn Dougal Sinclair

AKC Ch. Geronsart Remembrance at Runcible
Linjato Ace of Base

Geronsart Carte Blanche

Sanickro Nikita of Closeburn
Sanickro Loadsa Pizazz

Sanickro Mystic Maid

Anara Adornment

Roycroft Kerah's Promise

AKC Ch. Myrnac Barclay Braun
AKC Ch. Tarryon India's Burma

Roycroft Once A Millinium

Roycroft Victory Belle

AKC Ch. Sanickro Magic Star

Roycroft Barbie Doll