Chloe
Fox Creek Demeter RN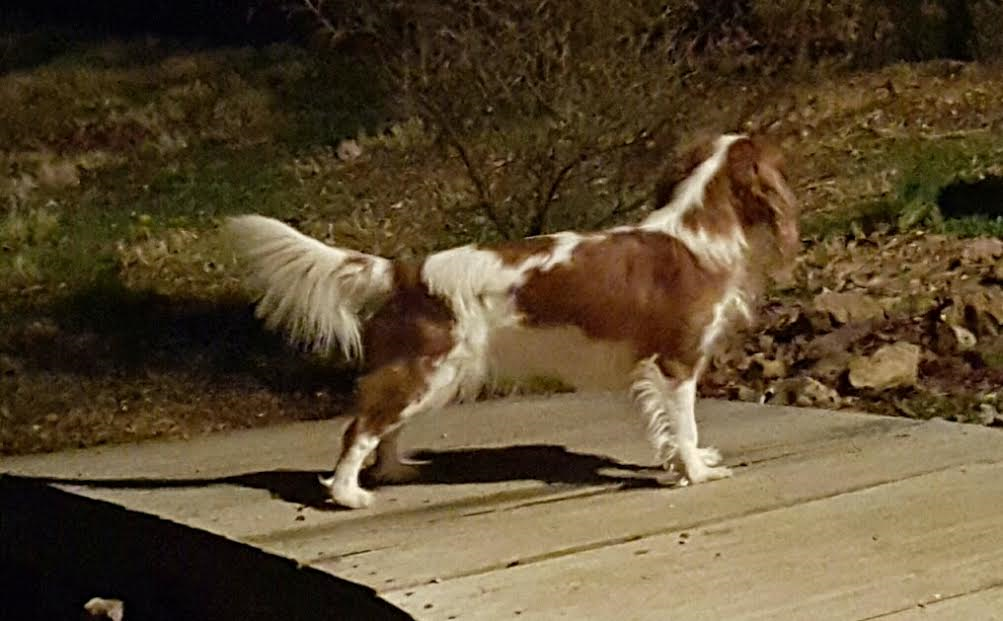 This is Chloe, alerted by a strange sound in the woods before dawn. I happened to capture her in a moment of frozen attention. She looks sooo athletic, doesn't she? It's because she is. Chloe is a real live wire, vibrating with energy and life..
Chloe is a challenge in the obedience ring because she vibrates with energy and life there, too. She loves doing stuff and getting treats, but she bounces and spins and hardly holds still for a second. Asked to hold still, she actually, literally vibrates. When she matures and calms down, I will show her more. Until then, it's easier to concentrate on showing easier dogs.
Chloe has current clearances for heart and eyes. Her structure is good and her patellas are sound. Her mother was a good producer, carrying puppies to term without a trace of the premature labor that has plagued Kenya and her daughters. I am hoping that Chloe can do the same.
CKCSC and AKC Ch Chantismere Chandos of Valentyne, JW

CKCSC and Eng Ch Lanola Santana of Maibee
Maibee Montrose

Eng Ch Lanola Salsa, JW

Chantismere Casta Diva at Corduke
Eng Ch Beauella Radzinski, JW

Chantismere Silent Moon over Corduke

Fox Creek Demeter

Kinvaar La Esperanto

Eng Ch Lanola Siesta at Maibee, JW
Eng Ch Maibee Make Believe, JW

Lanola Sweet Wild Rose

Johnasta Rose Crystal at Kinvaar

Eng Ch Brymarden Montana, JW

Kinvaar Knowing Johnasta