Pippa
(Sevenwoods Epiphany RN RA RE CD)
Pippa has grown up into an exceptionally glamorous prima dona and is the Cavalier I chose to accompany me on the jacket of my first book (THE CITY IN THE LAKE, out in July 2008). Unfortunately, despite her beauty, Pippa's bite is not the desirable perfect scissors bite. I really don't show her much in the breed ring, although she has gotten reserve a couple of times on the odd time I have shown her.
Here's Pippa in May 2008 --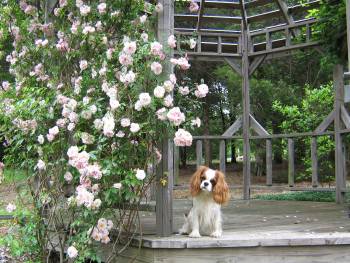 Pippa has OFA "Fair" hips and recent heart and eye clearances. She is exceptionally lively and spirited, but she has matured into a responsive dog whom I can trust on walks in the woods, too. She has four obedience titles and she is a tremendous pleasure to show in Rally, except she is SO SUPER FAST that it is hard not to trip over her when turning left.
Pippa has had one litter of puppies. She had no trouble whelping and was a fine mom who produced very pretty puppies. Unfortunately, Pippa developed pyometra, lost her second litter, and had to be spayed to protect her own health. Now she spends her time ruling over the rest of her pack and being very, very photogenic.
AKC Ch. Homerbrent Esquire at Sevenwoods

Eng. Ch. Homerbrent Expression
Eng. Ch. Homerbrent Illusion
Homerbrent Calina

Homerbrent Ophelia
Homerbrent Obsession

Homerbrent Haidee

Sevenwoods Epiphany

Clockpelter's Maggie May

Carolus The Jazz Singer
Rytonian Spencer

Carolus Candlelight

Clockpelter's Clover
Eng. Ch. Royal Influence of Charterwood

Clockpelter's Cornelia