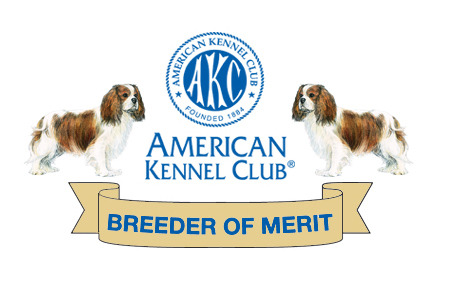 Puppies
(and sometimes young adults)
I've had occasional trouble getting email from this site. If you have any trouble, please send email directly to rneumeie@gmail.com and that should work!
ALSO: Want to see how puppies turn out as they grow up? 'Cause it's interesting to see how they grow and change.
PLUS: Curious about what it's like to breed a litter? Here's my take on the experience.
----------------------------------------------------------------------------------------------------------------------------------------------------------------------
Stuff that comes with an Anara puppy:
Dual registry with the CKCSC and AKC.
A microchip registration form -- Anara puppies are generally microchipped before they are sold.
Copies of relevant health certificates for the parents.
A statement from my vet that the puppy's patellas are sound at the time of sale, plus a shot record.
A guarantee covering the puppy's heart and hips.
A detailed handout on housetraining, plus a handout of general tips about Cavalier puppies.
A money-back return clause in case you find after purchase that the puppy isn't working out for you.
And an offer to reimburse you for heart and eye checks on your puppy, as long as I have related dogs in my breeding program -- I always want to know about health issues if any occur.
----------------------------------------------------------------------------------------------------------------------------------------------------------------------
What's expected in 2014?
Not much in the way of puppies. I will be placing two young adults, however -- Giedre and Folly. You can scroll down on this page to see them as adults and as puppies, and to see pictures of their parents. There is also more information on The Girls page.
Giedre, two years old, is a very well-built youngster with outstanding structure and great movement. She has passed her heart, eye, and patella checks and has her first two Rally obedience titles. Giedre has a nice, steady temperament and is my most dedicated lapdog. She is easy to show, not the least bit flighty or nervous. She is playful but not hyper, sensitive but not overly so, and generally an easy dog to have around. Though she will grab and try to eat the most appalling things when she's hiking!
I bred Giedre Nov 30, 2013 to CKCSC Ch. Jayba Easy Does It, JW -- a young dog, two years old, whose brief show career has been astonishing. Tiger's breeding is Ch Lanola Santana of Maibee x Jordanic Mariella of Jayba, and his pedigree was an exciting match for Giedre. Tiger's too young to evaluate his heart and general health directly, but I'm familiar with his parents and grandparents and felt comfortable breeding to him. I was hoping for really, really nice puppies from this breeding. However, like her mother, Giedre had issues with premature labor. In then end, only one puppy survived.
The single surviving puppy, a beautiful little boy, looks extremely promising at five weeks. I believe he will have superb structure and movement, great proportions and bone, and a nice, steady temperament. However, he is not available as a pet. Either I will keep him myself or he is already spoken for. Giedre herself, on the other hand, is available to an approved home. I will only let her go to a home where she will receive plenty of attention and love. You can scroll down on this page to see more pictures of Giedre as a puppy and of Giedre's mother (Kenya).
| | |
| --- | --- |
| Anara Give Me A Break -- Giedre | Jayba Easy Does It -- Tiger |
| | |
Puppy "I"

Following in his mother's footsteps, unfortunately, this puppy is my entire "I" litter all by himself.

If I keep this puppy, I am going to call him Anara Call Me Ishmael. If he goes to a pet home, his name will be Isaac.

He looks wonderful so far: a beautiful broad head and heavy bone, good proportions and angulation, good tail set. However, it is really too early to evaluate him fully. Any number of minor cosmetic flaws could take him out of the show ring. At this point, it's really a waiting game to see how he turns out.
A month after I bred Giedre, I bred Folly to The Prez, a fabulous nine-year-old black-and-tan male. However, though the timing of the breeding should have been good, the breeding did not take. I really wanted a little black-and-tan girl to go on with, but it didn't happen. Instead, I will be placing Folly in a pet home where she can be first in her peoples' hearts and really flourish.
Folly has her heart, eye, patella, and hip clearances. She also has her first two Rally titles. She is a natural at performance as long as you are indoors -- outdoors she is always on the lookout for birds. Or butterflies, or bees -- she's not picky! Anything that flies can trigger her hunting instinct. She will be available only to homes where she has a large, securely fenced yard in which to indulge her love of running and chasing butterflies.
Folly is extremely sweet and craves attention. She will drape herself across your lap while you pet her. When you stop petting her, she will pat you with her foot to try to get you to start again. However, when you do finally stop petting her, she will give you a little space, moving to the other end of the couch to nap.
Folly is not afraid of other dogs, but she is very submissive and will not, for example, try to fetch a toy if another dog shows interest in grabbing the toy. She likes to retrieve for you, but will only do so when there is no competition for the toy. She might do well as an only dog. She is not exactly nervous, but she very sensitive. She is available only to a calmer home. She does love children, though. But really, she loves everyone. You can scroll down on this page to see Folly's parents and a couple of her puppy pictures.
Anara Frivolity -- Folly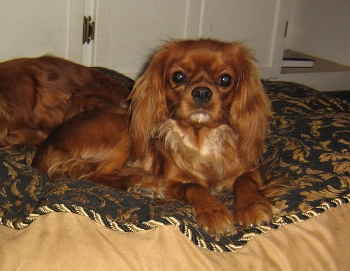 ----------------------------------------------------------------------------------------------------------------------------------------------------------------------
What's expected in 2015?
I'm not sure I will attempt to breed any litters in 2015. If I do, I will probably breed Kenya. Or I might breed Honey. You can watch this page for updates. If I do breed either girl, that information will go right at the top of this page.
----------------------------------------------------------------------------------------------------------------------------------------------------------------------
If you are interested in an Anara puppy (or young adult), then --
Please write a real letter. Tell me your name, plus a little bit about yourself and your family and your current pets and why your family would be a good fit for a Cavalier -- just tell me something more than that you are looking for a puppy. Cavalier puppies are suitable for many, many homes, but they are not suitable for every single home! And besides that, every specific puppy is suitable only for some good homes. I need to know enough about you to make sure that your home is actually a good fit for a puppy and make a reasonable guess about which individual puppy would be a good fit for your home.
BTW, if you are looking for a quality, healthy, pretty Cavalier for a pet, I really urge you to think hard about whether you HAVE to have a female. And I know everybody's got their color preferences, and yes of course you want a puppy you will enjoy looking at -- I don't personally like freckles, for example, so honestly I do understand preferences for color and markings. But if you are flexible about color and sex, it is a LOT easier to get a really nice puppy. This is because breeders keep the nicest girls themselves, so there are always more really nice boys available than girls.
My bet is that if you buy a puppy, you will never regret making health and sound structure and a nice personality your priorities and letting color and sex come later in your list of criteria. I promise you, no matter what color is your favorite, when a puppy of some other color crawls into your lap, you will be charmed by that puppy in nothing flat.
----------------------------------------------------------------------------------------------------------------------------------------------------------------------
Previous Litters
----------------------------------------------------------------------------------------------------------------------------------------------------------------------
2013's Single Puppy
Kenya's puppy from 2013's litter, Honey, will hopefully be spectacular, but it's a bit early to tell!
(Update: Yeah, she's pretty spectacular. See The Girls page)
| | |
| --- | --- |
| Honey at four weeks | Honey at eight weeks |
| | |
Honey was the only surviving Kenya x Teddy puppy. Kenya is a small, compact, pretty girl. She has excellent structure and movement, which she is showing off in the lower picture below. She has her heart, eye, hip and patella clearances. Even better, her daddy, CKCSC and AKC Ch Sanricko Enchanter at Heartsong, who was the top-pointed Cavalier in 1999, is 15 now (Update: almost 18 in 2014) and not just heart-clear, but a vibrant, vigorous, splendid dog. (There's a picture of him at the bottom of this page.) Kenya's mother was still clear at eight, too. I would obviously be amazed if Kenya doesn't follow in their footsteps.
Kenya won her Graduate Puppy class at the 2011 Indianapolis CKCSC specialty, from the renowned movement-and-structure judge Frank Kane, who said she was "the convincing winner" of the class. She recently won her second AKC major over a large entry of top-quality bitches. Kenya has finished her Rally Advanced title.
Teddy is the incomparable AKC and CKCSC Ch Truluv Kiss N Tell of Jayba. Teddy, Gene, Gene's brother DJ, and other Jayba dogs are some of the most beautiful Cavaliers in the country today -- there are plenty of details on the Jayba Cavaliers website. It just kills me that I only got one puppy from this breeding.
Kenya RN

Ch Truluv Kiss N Tell at Jayba (Teddy)
-----------------------------------------------------------------------------------------------------------------------------------------------------------------------------------------------------------
2012's Puppies
The first dog I bred Kenya to: AKC and CKCSC Ch Jayba Pucker Up (Gene)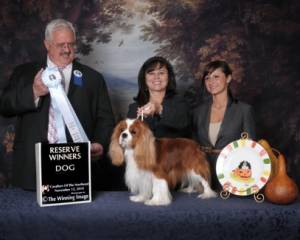 Puppy "G" -- Kenya's only puppy by Gene:
Puppy "G" is a very nicely marked girl. She was remarkably well developed for a very early preemie and, after a slow 48 hours to adjust to the real world, took off like a little rocket. She is shown here at six days old, or the day she should have been born. She was under four oz at birth, but at the time I took this picture, she was up to 7.25 oz, a perfectly normal weight for a newborn Cavalier.

Seven and a half weeks old and time to take a good hard look at the baby! Her registered name is now Anara Give Me A Break and her call name is Giedre, which is Lithuanian, btw. This baby was just AMAZING in the housetraining department. It's like she just absorbed the idea from the other dogs because she basically never made a mistake. I wish all puppies could be as clever with that!

Giedre was just an astonishing puppy. She had excellent markings, ideal proportions, excellent bone, wonderful angulation, great tailset, low-set hocks -- the whole package. Except her bite was a tight underbite! (And still is, alas.) I am hoping very much that this will correct, obviously. Many underbites do correct in Cavaliers. But she is just too superb for me to place her out as a pet just yet, regardless of her bite. I now plan to breed her once, in 2014. After that, if her bite has not corrected, I may well place her out.

Giedre has a very nice personality, outgoing and confident. I credit her "big sister" Folly (scroll down to see Folly) for giving her a fine role model to follow.
| | |
| --- | --- |
| Adora | Grand Champion Closeburn Graham MacInnes |
| | |
The "F" litter -- Adora's puppies by Graham:
| | |
| --- | --- |
| | Every puppy conceived had a 75% chance of being ruby and a 25% chance of being blenheim, but as you see, I managed to get one of each. The little ruby is (yay!) a girl! !!! Which is what I wanted from this litter. The blenheim is a boy. |
| | |
| --- | --- |
| | |
| | Anara Fiddlesticks, now Benji, has gone to his new home, where I am assured he is doted on by all who see him. |
| | Anara Frivolity, called Folly for short, is a wonderful little spitfire . . . can't wait till she's old enough to hit the puppy classes! |
2010's litter
Bree had three puppies May 5th, one tri boy, one tri girl, and one blenheim girl.
This is Myrddin Emrys (Merlin to his friends).

Merlin got his mother's wonderful temperament, excellent structure, and great movement.

It's hard not to sound like a used-car salesman when I talk about Merlin. He has just about the most perfect personality imaginable -- laid back but playful, a lap dog but not too demanding, moderate in energy level, accepting of virtually everything, not a trace of shyness or nervousness.

Merlin's only fault, if you can even call it that, is uneven markings on his body - as you can see, though, the markings on his head are beautifully symmetrical. He's in a fabulous pet home now, and no doubt still charming everybody he meets.

Here is Eilionoir -- Elli for short.

Elli is the smallest of the puppies, very feminine and sweet.

I really wanted a beautifully marked tri girl from this litter, and look! Here she is! Her markings are lovely and symmetrical. But those freckles on her face are definitely not desirable for a show dog, even though many people personally appreciate freckles on a Cavalier. And freckles on a tricolor show up so clearly!

So Elli went to a great pet home, where she will be beautiful, sweet, and elegant and no one will mind her freckles.

This is Eibhlin -- Eve for short. She is only seven weeks here, but this picture shows exactly the body you look for in a show puppy. A bit long in the body, yes, but angulation to die for, fantastic neck and shoulder, tremendous bone, wonderful topline and tail set. Just an amazing puppy!

Eve is incredibly active and outgoing. All three of Bree's puppies were 'born socialized', but Eve takes it a whole order of magnitude farther than her siblings. Her attitude just screams that SHE is the WINNER. She doesn't live with me anymore, but she was shown to her International Championship by her new owners!
The father of this litter is such a great dog! Take a look at Guy and then scroll down to read all about him.
| | |
| --- | --- |
| Bree | Guy |
| | |
Now, Guy is a pretty special dog, which is the only reason I'd have considered driving all the way to Minneapolis to breed Bree to him, believe me! He's from Scotland. His show name is Kinvaar Obsession. Guy is seven years old and heart clear, but the thing about Guy (besides his beauty!) is the back of his skull. He's one of the go-to dogs if you're really *serious* about trying to avoid syringomyelia. He's racking up an impressive record as a producer -- that is, his offspring tend to look really good as far as avoiding SM goes, way better than average. And he's siring really beautiful offspring, definitely a plus.
***
2009's single puppy:
Eff's puppy, the sole Anara puppy born in 2009. This puppy's sire was Sanicro Enchanter at Heartsong, a fabulous dog (Kenya's father, too) but unfortunately, Eff only had the one puppy.
Born 9-22-09, Dara was 11 oz at birth, which I thought was huge until Bree's 12 oz tri girl beat her.

Here she is three and a half weeks -- with her 'siblings'! Because she was a single puppy, she needed substitutes to take the place of her littermates. She still loves her bear!
Dara at three months old. She turned out to have great structure, but a rather "old-fashioned" style of head -- and freckles, alas. I finally placed her in a great pet home when she was three, where she now divides her time between sleeping upside down on laps and eradicating the neighborhood chipmunk population.
Dara's daddy --
Timmy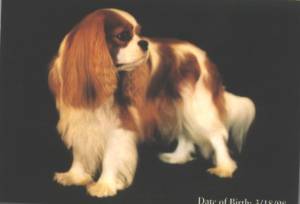 Timmy. 'Timmy' is CKCSC and AKC Ch Sanickro Enchanter at Heartsong. (Also Kenya's father, if you recall -- Kenya and Dara are half-sisters through this dog.) He's just as good as it gets as far as heart quality goes. Timmy won all kinds of Best in Shows at Cavalier specialties under any number of top breeder-judges. He is a totally fantastic dog. He was the top Cavalier in the country in 1999. It is just luck that I saw Linda Dupuy's ad in the 2009 CKCSC yearbook, because I assumed he was long retired as a stud dog. But far from being retired, he his still siring puppies just as well as any two-year-old. Plus because he has offspring that are eight and nine years old, we can also see that his puppies tend to get his outstanding heart quality, too! As far as Linda knows, he's never sired a puppy with SM -- and since she never sells puppies out of state, she would probably know.
Update: as of 2014, Timmy is pushing 18 and still going strong. He is losing strength in the rear, but he is still a cheerful and vigorous old man. This is the longevity and vigor I am trying to capture in my breeding program.
See Previous Litters here